FreshPlay is back in a whole new way and a fresh crew of playwrights ready for their words to be heard!
In August 2020, MCC hosted FreshPlay REDUX where audiences got to hear an excerpt of the plays our 2020 Playwriting Lab cohort wrote during the year. With our new FreshPlay Fridays, we are able to give these budding writers a week long workshop to refine their work under the guidance of an established director and a full cast of actors. On Friday, we will be treated to a live staged reading of a fresh new version of their play.
Join us on Friday March 26th at 6pm for Operation #23: Steal the Mona Lisa written by Gena Treyvus and directed by Jenna Worsham
An Agent must prove themself to a new Boss by stealing one of the most renowned and recognized paintings in the world, the Mona Lisa. On the way to the uptown heist, the Agent strikes up a conversation with a Lawyer, which runs the gamut from how much New York City has changed, to climate change itself! They may both be in a hurry, but as usual, the MTA has other plans. Will these two make it out of the city's tunnels, in time? It's not a question of what can go wrong, but what can go right?
The video will be available to watch on YouTube thru MAY 6, 2021
FreshPlay Fridays staged readings are FREE of charge and will be taking place virtually on MCC's YouTube page.
WHEN: FRIDAYS BEGINNING MAR 26 @6PM
WHERE: STREAMED FREE ON OUR YOUTUBE CHANNEL
PLEASE NOTE
This event is free and open to the public
OPERATION #23: STEAL THE MONA LISA CAST & CREATIVES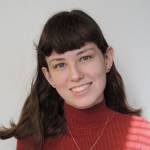 GENA TREYVUS
PLAYWRIGHT
Gena Treyvus is an emerging playwright from Brooklyn and is currently a first-year Playwriting BFA student at The Theatre School at DePaul University. Her first play Strawberries at the Datcha received a week-long workshop that culminated in a public reading at the 2019 FreshPlay Festival at MCC Theater. Strawberries at the Datcha is also a semi-finalist for the 2020 Jewish Plays Project Annual Playwriting Contest. A scene from Operation #23: Steal the Mona Lisa received a virtual reading as a part of FreshPlay 2020 Redux, and Gena is very excited for the opportunity to continue working on the play this year. She is also a proud MCC Youth Company Alum who's been a part of Performance Lab, Playwriting Lab, and Ambassadors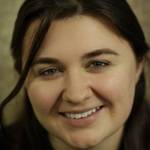 JENNA WORSHAM
DIRECTOR
Jenna Worsham is a NY-based Stage Director, Writer, and Activist. Recent Directing: At the Wedding by Bryna Turner (upcoming at Lincoln Center Theater); The Siblings Play by Ren Dara Santiago (Rattlestick); Summer's Soldier by Boo Killebrew (Williamstown); The Climb by C.A. Johnson (Cherry Lane); Our Town for the Pride Plays Festival;  AGNES by Catya McMullen at 59E59 Theaters for Lesser America (NY Times Critics' Pick); Amy Herzog's Belleville for the Pasadena Playhouse, starring Anna Camp & Thomas Sadoski; Street Children for Vertigo Theater (NY Times Critics' Pick). 2019 National Directing Fellow at the Eugene O'Neill Theater Center, 2017 Drama League & Boris Sagal Fellow at Williamstown, and recipient of MTC's Jonathan Alper Award. Broadway: The Heidi Chronicles; The Parisian Woman (Associate Director). Jenna is the co-creator of The Homebound Project, and the co-founder of Creative Solutions at SPACE on Ryder Farm.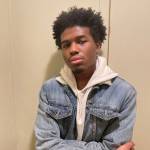 TERRENCE AUSTIN
ACTOR
My name is: Terrence J. R. Austin…I am an aspiring digital artist with plans to finish college and become a Drama teacher. I aim to arm the next generation with not only a set of skills every aspiring actor would need, but inspire the interest of the many other aspects of theater outside of acting. I have been a digital artist for almost a year and have dubbed myself The Voice in Your Head as a way to represent my free form imagination and showing people that you should embrace your ideas and at least give them a chance. I have been acting for 6 years and have been blessed with the opportunity to act on multiple stages, make my own pieces, direct and act in the, and work with a multitude of great people from Broadway, to little gatherings in a random part of town we didn't even know existed. I call myself a jack of all trades, but just because I choose not to master, doesn't mean I don't devote myself to bettering my skill set; in other words I want to know what I'm teaching and be great at what I love to do.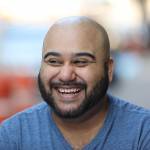 ERIK DEJESUS
ACTOR
Jack of all trades, Erik De Jesus is very honored to be in Operation #23: Steal The Mona Lisa. A classically trained comedy actor and playwright has been last seen in last summer's Freshplays and before that, 2018's One Minute Play Festival at The Intar Theater. A first generation Dominican, Erik strives to be an example to those in his community of Washington Heights to just go for it. He is currently House Manager at MCC Theatres while he pursues avenues in acting and pro-wrestling. Grateful for his Professors at BMCC for pushing him to be a daring performer and to his newest family at MCC for the open arms welcome he has received.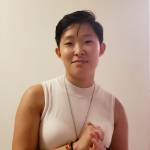 SOUJEE HAN
ACTOR
SouJee Han is a queer, first-generation, Korean-American actor. An alum of MCC's youth theater company and recent Emerson College graduate (BFA Theatre & Performance '20), this is her third year as a part of Freshplay and is honored to be asked to come back to participate. She is also a writer, director, and content creator. Other credits include: The Zero Hour and Love & Information.
(IG: @soujeexhan)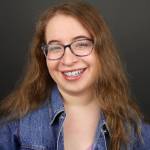 AUDREY LANG
ACTOR
Audrey Lang (she/her/hers) is a playwright and actor born, raised, and based in New York City. As a proud MCC Youth Company alumna, she is so excited to be working on Operation #23: Steal the Mona Lisa! Her plays have been developed with Pride Plays, The Workshop Theater, Theatre503, MCC's FreshPlay, and more. She is currently a member of writers' groups at Original Idiots and Eden Theater Company. As an actor, her work includes the world premiere of Sandy Gooen's It Takes A Village and Pearl Gluck's award-winning short film Summer. B.A. Theatre Studies, Ithaca College. www.audreyglang.com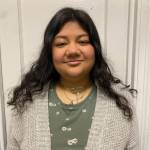 GABRIELA DE LEON
ACTOR
Gabriela de Leon is an observer, a multidisciplinary artist, avid reader, poet, music lover, astrology student, and seeker of complete friendship. She has been a member of the MCC community since high school when she was part of the Brooklyn Youth Company. Since then she has helped produce many Youth Company events and worked various MCC events.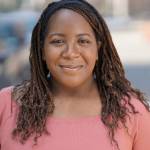 NICOLE SUAZO
ACTOR
Nicole is very excited and honored to be participating in Freshplay Fridays. She is a proud alumna of the MCC Theater Youth Company, and credits them for helping her find both her artistic and personal voice! Nicole is most known for playing the role of Natalie in Piehole Theater Company's production of SKI END at the New Ohio Theatre which received a positive review by The New York Times. Some of her credits include: Uncensored 2016 (MCC Theater), Urinetown, Pippin, Guys and Dolls, Cabaret, High School Musical (as Martha Cox), Primer for a Failed Superpower – Sneak Peek Concert (the TEAM). Music Video(s): "How I Like It" and "No Shame" (Love Songs for the Rest of Us Album) both of which were directed by Rachel Chavkin! Huge thanks and love to all who helped me get this far and never stop supporting me! Instagram: @the.awkward.girl
Want access to all of our digital content? 
Click to YES to learn more about all the exclusive benefits for
SUBSCRIBERS & PATRONS
THE ROBERT W. WILSON MCC THEATER SPACE