Screening and Q+A following the film
Moderated by MCC Artistic Director Bernie Telsey
Featuring Writer/Director Peter Hedges and members of the cast
OCTOBER 18, 2022
7:00 PM
QUAD CINEMA
34 W 13 ST
NEW YORK, NY 10020
Extremely limited availability!
For more information, please contact Vinny Martini at vmartini@mcctheater.org or call (212) 727-7722 x 205.
"Six weeks into the lockdown, MCC Theater did what it does best and offered hope to me and a whole community of theater lovers. With the theater world shut down, MCC gave us Marissa Tomei and Oscar Isaac who were transcendent in their reading of Alan Bowne's BEIRUT on Zoom. It was deeply moving, cathartic.
That night I couldn't sleep. Inspired, I started writing what I thought was a play for MCC. It turned into the film THE SAME STORM. Made with love and in a most unlikely way, THE SAME STORM is just one more example of MCC's legacy of impact."
-Peter Hedges, Director/Writer
In the spring and summer of 2020, 24 people navigate life, love, and isolation during the early days of the pandemic. Featuring an all-star cast, The Same Storm celebrates the spirit and determination that connects us all.
The Same Storm is not an MCC Theater production.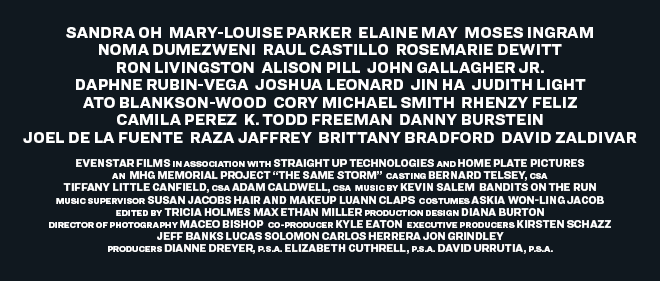 All proceeds from this screening will benefit MCC's mission to provoke conversations that have never happened and otherwise never would through the production of new plays and musicals, the development of emerging playwrights and theater artists, and our groundbreaking education programs.
MCC THEATER BOX OFFICE HOURS
MON – FRI: 12PM – 6PM
Want access to our full 2023/24 season? 
Click to YES to learn more about all the exclusive benefits for
SUBSCRIBERS & PATRONS
THE ROBERT W. WILSON MCC THEATER SPACE