MCC Theater is proud to be a host for the
JUBILEE FOR A NEW VISION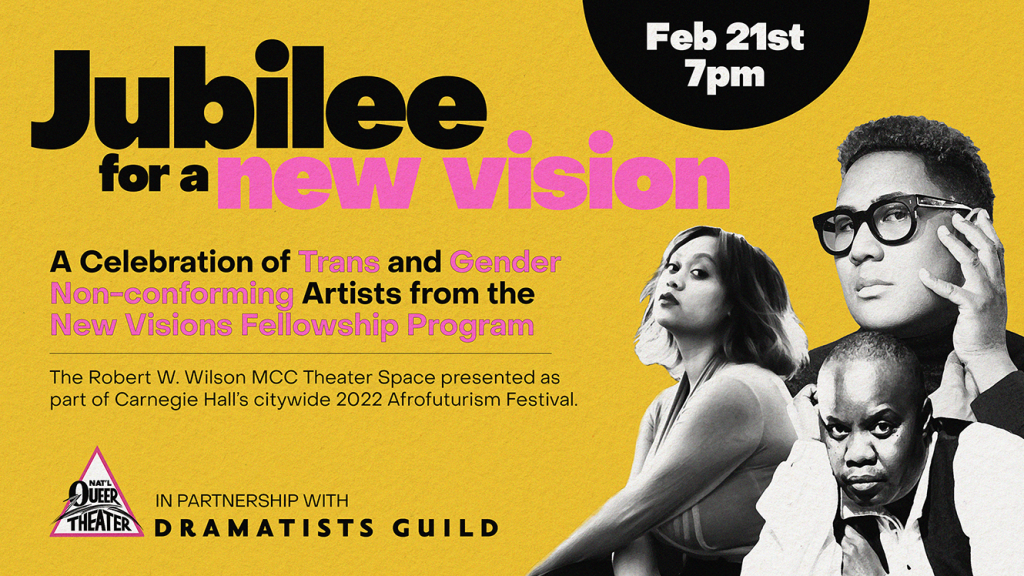 National Queer Theater in partnership with The Dramatists Guild of America is proud to present Jubilee for a New Vision: A Celebration of Trans and Gender Non-conforming Artists as part of Carnegie Hall's citywide 2022 Afrofuturism Festival. Join the artistic residents of the New Visions Fellowship, a new initiative of National Queer Theater and The Dramatists Guild of America, as they showcase excerpts from new works amplifying the TGNC experience in scene, song, and performance.

Directed by Roger Q. Mason,
with Assistant Director É Boylan
Featuring New Works by New Visions Fellows
Ayla Xuan Chi Sullivan (they/them) and Nick Hadikwa Mwaluko (he/they)
With appearances by Storm Thomas, Chantal Vorobei Thieves (she/her), and Alexander Paris (they/them)
FEBRUARY 21, 7PM AT THE ROBERT W. WILSON MCC THEATER SPACE
AS PART OF CARNEGIE HALL'S CITYWIDE AFROFUTURISM FESTIVAL
For Mature Audiences only.
Trigger warning – Sexual violence.
Want access to our full 2023/24 season? 
Click to YES to learn more about all the exclusive benefits for
SUBSCRIBERS & PATRONS
THE ROBERT W. WILSON MCC THEATER SPACE